World Chilli Alliance takes part in the 2nd Western China International Fair for Investment and Trade (WCIFIT)
date:2019-05-20
views:860
Today was the last day of the 2nd Western China International Fair for Investment and Trade (WCIFIT) held in Chongqing from 16th to 19th May.
World Chilli Alliance joined the fair as ambassador of the International Chilli Culture exhibiting a series of spicy products, such as chilli sauces, chilli oils, marinated chillies in olive oil, red and rosé wines to pair with spicy food, spicy pasta and dark chocolate with chilli pepper.
The important role of the chilli pepper is confirmed by the elegant works designed by the Italian artist Giuseppe Carta, whose products were exhibited by ChinItaly, a consultancy firm and Silver Chilli of WCA founded in 2016 with the aim of supporting the creation as well as the implementation of industrial, commercial and cultural exchanges between China and Italy.
During the first day of the event it has been a great honour to have introduced World Chilli Alliance's mission and initiatives to the former Italian Prime Minister Massimo D'Alema who took part in the open ceremony of the fair.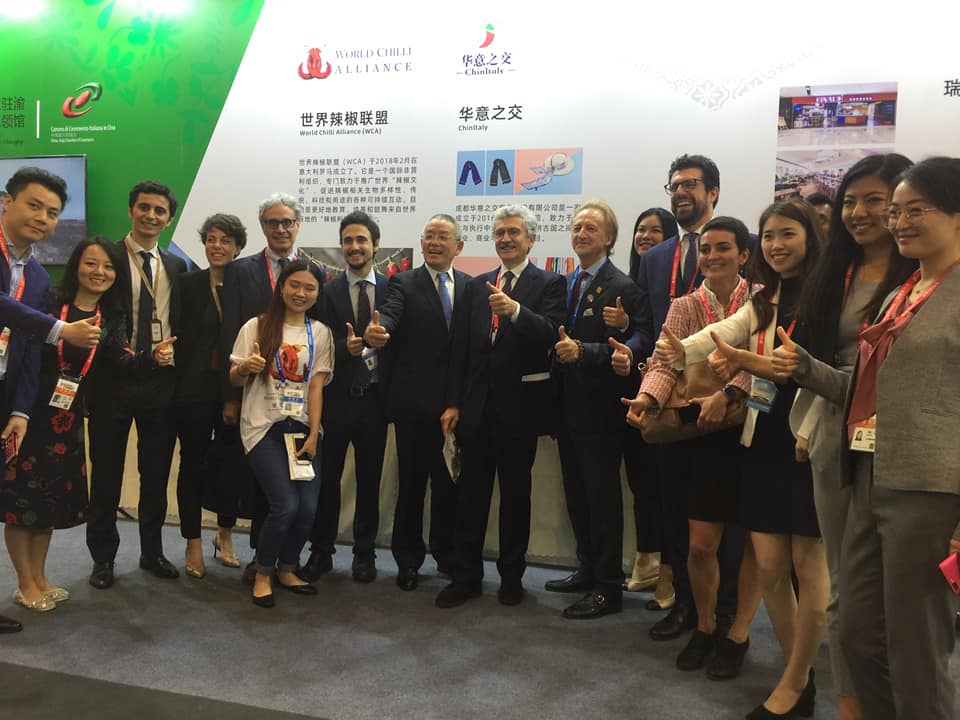 Following an introduction of the brands (listed in alphabetical order) promoted by World Chilli Alliance:
Capsi: an Italian brand founded by Russo family which produces chilli pepper in olive oil since four generations. "CAPSI Peperoncino Made in Italy" is a product made of red chilli peppers marinated in "first cold pressed" extra-virgin olive oil, which comes from hill-grown olives of «Roggianella» variety, contained in little bootles (15 ml each) inserted in an elegant box.
ChinEAT:
a brand founded in China by a team of international, young and passionate people who, by selecting and recasting some of the most representative and appealing elements of Chinese cuisine, strive to make a difference in setting new and real perception of Chinese food traditions and values worldwide.
We present a selection of their products available in three different pungency degrees (Li's Spicy Degree), 36, 45 and 52 degrees: Chongqing Spicy Sauce with its numbing and spicy flavour; Szechuan Broad Beans Spicy Sauce with its unforgettable Szechuan-style flavour; Kungpao Chilli Sauce, whose name itself tells the story of a famous Chinese dish known all over the world; Shaanxi Flavour Spicy Tomato Sauce, a classic with some Chinese, regional, characteristics, not too spicy and only available in 36 degrees.
L'Artigiano della Nduja: active since 2002, is a family-run business located in Spilinga (Vibo Valentia, Italy). We present a traditional, spicy and spreadable pork salumi, originating from the town of Spilinga: 'Nduja, made with pork fat, salt, olive oil and Calabrian hot peppers. 'Nduja is a perfect condiment served with bread, pizza and ripe cheese, or as base ingredient for tomato sauce.
Mr PIC: a brand which the Carmazzi Company, founded more than one century ago and located in Viareggio (Italy), uses to sell its products. We present a list of several spicy products: "Arrabbiata Sauce" made with Jalapeno hot pepper; Aji chilli pepper preserve; Ghost Chilli sauce; "Dente di Coyote" pepper sauce; Red Habanero sauce; Aji Amarillo pepper sauce; Yellow Habanero chilli powder; Red Habanero chilli powder; "Mix collection" chilli powder, a selection of the spiciest chilli peppers cultivated by the company; spicy chocolate; Italian pasta made with hot chilli pepper. Moreover, Mr PIC has a "seed bank" of over 1500 varieties of chilli peppers.
Pasta Pirro: founded in 1986, is located in Corigliano Calabro (Cosenza, Italy). We present two kinds of pasta made by durum wheat semolina with red hot chilli pepper: "fettuccine" and "Filei". The chilli pepper gives these two varieties of pasta an unique flavour.
Peperita: a company founded by Rita Salvadori and active since 2003, located in Bibbona (Livorno, Italy). We present its spicy oil, a perfect hot condiment made with organic chilli peppers and organic extra-virgin olive oil. This Extremely Hot Dressing does not contain any extra flavouring and chemical capsaicin. Peperita's products are all made with basic ingredients produced organically.
Peperoncineria Paladino:
active since 2016, is a start-up located in Parma (Italy). We present four peculiar spicy sauces: BBQ sauce with lightly smoked chipotle; Piedmont hazelnut PGI cream with Habanero; Orange fruit preserve with Red Habanero; fruit preserve with Jolokia Puro.
Through unusual food pairing techniques, Peperoncineria Paladino tries to create innovative products.
Pepita:
founded in 2013, is located in Torre Annunziata, in Campania (Italy). We present its sweet and hot pepper spreads made by Italian chilli peppers and undergone no cooking process in order to preserve the flavour of fresh chilli.
This sauces are suitable for any kind of dish, from toasted bread to pasta, meat and fish.
Spadafora 1915: founded in 1915 by Ippolito Spadafora, is a company located in Mangone (Cosenza, Italy). We present two characteristic wines, both of them using a blend of Magliocco and Merlot: "Peperosso", a red wine whose softness and pleasant fruitiness make it an excellent combination with spicy dishes; and Peperosa, a rosé wine suitable to be served with Italian traditional spicy dishes.